Quick Steps / Summary
Sign a Card
Submit a Petition
Election (1st Vote)
Negotiations
Vote to accept the contract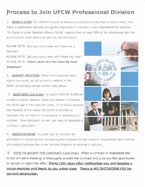 Questions? Contact Us
Process to join the UFCW Professional Division:
1.Sign a Card
The UFCW Professional Division must prove to the Federal Government that there is substantial interest among the employees to conduct a union representation election. The National Labor Relations Board (NLRB) requires that at least 30% of the employees sign the authorization card before an election can take place.
 Please note:
 Signing a card does not make you a member!
 Signing a card does not initiate any fees!
 These cards are not seen by your Employer!
2. Submit Petition
When the employees have signed the cards, we will submit a petition to the NLRB requesting a secret election take place.
3. Election (1st Vote)
An agent from the NLRB will conduct a secret election. When the election is finished, the NLRB agent will count the votes. If the Union receives the majority of the votes, the UFCW is certified to represent the workers for the purpose of negotiating a contract. Your employer, by law, will have to negotiate a contract in good faith.
4.Negotiations
You and your co-workers will participate in designing and developing the proposals for the contract. Negotiations are a series of meetings between the Union and the Employer to develop a contract.
5.Vote to Accept the Contract (2nd Vote)
When a contract is negotiated the Union will set a meeting to thoroughly explain the contract and give you the opportunity to accept or reject the offer. Thirty (30) days after ratification you will become a union member and begin to pay union dues. There is NO INITIATION FEE for current employees.